NC22FeD Wrought nickel-base superalloy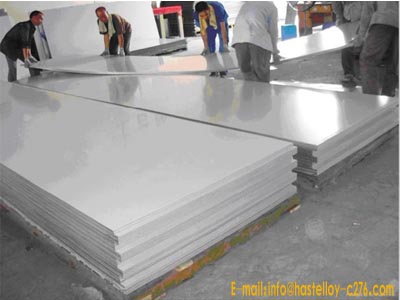 NC22FeD is a kind nickel base super alloy with Cr and Mo solid solution having a high iron content, strengthening, has good anti raising and corrosion resistance, moderate endurance and creep strength at 900 degree, cold, hot workability and good welding performance. The combustion chamber components used in the manufacture of aircraft engines and other high temperature components, long-term use under 900 degree, short-time working temperature can reach 1080 degree. The main varieties of supply of sheet, strip, pipe, bars, forgings, rings and precision casting.
1. NC22FeD alloy equal material:
GH3536/GH536/GH22/GH334/GH739/SG-5(China), UNS NO6002, NiCr22FeMo(Germany), Nimonic PE13(British) , Hastelloy X
2. NC22FeD Wrought nickel-base superalloy Chemical composition:

3. NC22FeD material Heat treatment system
Sheet and pipe: 1130 - 1170 degree, fast air cooling or water cooling;
Bar and ring pieces : 1175±15 degree , air cooling or faster cooling;
Strip: 1065 - 1105 degree , fast cooling.< /p>
4. NC22FeD alloy steel supply specifications
Sheet : thickness 0.5 ~ 4.0 mm
Strip : thickness 0.05 ~ 0.8 mm
Pipe: 4 - 20 mm outside diameter, wall thickness of 1.0 ~ 2.0 mm
Wire: diameter 0.2 ~ 10.0 mm
Bar: diameter 300 mm or less
Ring: all kinds of diameter and wall thickness and the precision casting of different shapes and sizes< /p>
5. NC22FeD alloy steel supply Condition:
Sheet, strip and tubes : after solid solution treatment and acid cleaning
Strip : in cold rolling state
Welding wire: before hard and half hard, solid fusion and pickling, light solid solution treatment status in coil delivery, also can direct the delivery
Bar and annular parts: without heat treatment delivery
Precision casting : supply in casting state
6. NC22FeD alloy steel application and special requirements
NC22FeD alloy mainly used in the manufacture of hot end of combustion chamber parts and other components, and honeycomb structure, etc. Alloy at high temperature after long-term use of certain age hardening phenomenon.< /p>
7. NC22FeD physical properties
NC22FeD Melting temperature range: 1295-1381 degree.
NC22FeD Density: 8.28g/cm3.
8. NC22FeD Mechanical property:

815 degree Persistent property

Cold rolled sheet Cold rolled strip Cold drawn pipe bar Ring a casting

bending 180° bending 180° Hydraulic, flaring HBS≤241 HBS≤241 HBS≤96
Product
About Us
Manufacture